The Yellow River at work. Mr. Griebenow in background is 6'4"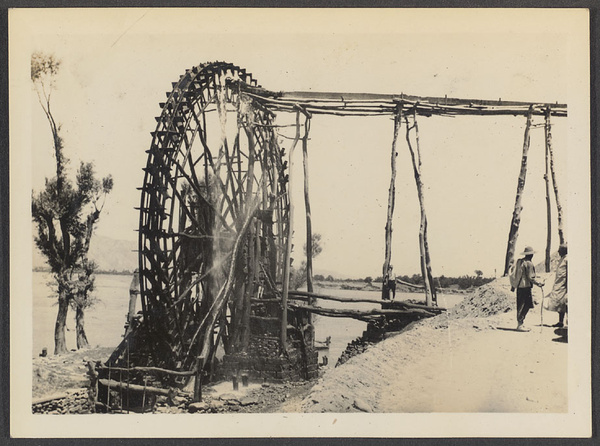 Collection
Copyright
© President and Fellows of Harvard College
Notes
Historical Photographs of China album reference: Hv44. Dr. Samuel M. Zwemer's visit to China, part 1. First part of an album containing photographs taken by Christian missionaries Claude L. Pickens, Jr. and Carter Holton. General note: Excerpt from unpublished photo essay, plate 3: "Water wheels on the upper Yellow River, above Kaolin [Lanzhou]. The man standing in the middle background by the upright post is six feet two inches. Water is carried to the top in long rect[a]ng[u]lar boxes fastened to the circumference of the wheel. Many of these wheels are owned by Moslem villages." Access to original photographs and albums in the Rev. Claude L. Pickens, Jr. Collection is restricted. Photographs and images from the collection may be reproduced only with written permission. Contact the Harvard-Yenching Library for permissions and fees. Further information about the library and 'The Rev. Claude L. Pickens, Jr. Collection on Muslims in China': http://hcl.harvard.edu/libraries/harvard-yenching/collections/pickens/. 6'4" (six feet four inches) is 1.9 metres.
Photographer
Media
Black and white photograph
Repository
Harvard-Yenching Library, USA