China Association dinner to Sir Robert Hart, London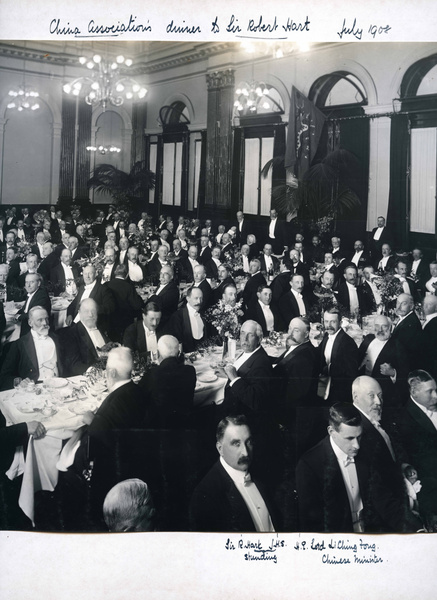 Collection
Copyright
© 2010 John Swire & Sons Ltd.
Notes
University of Bristol - Historical Photographs of China reference number: Sw-s01. Dinner at Criterion Restaurant, London, on 7 July 1908 (source: The Times, Wednesday, 8 July 1908; p. 11). Hart had just returned from China. Annotations in the hand of G. Warren Swire, identifying the occasion, as well as Sir Robert Hart, and on his left J.H. Scott (John Swire and Sons, and President of the China Association), and also, on his left, sitting, the Chinese Minister to the United Kingdom, Li Ching Fong (Li Jingfang 李經方; 1855?-1934). Sir Robert Hart is standing by the top table, on the left. Robert Hart was born in 1835 and died in 1911. He was Inspector-General of the IMCS (Imperial Martitime Customs Service) 1863-1910. See a plan of tables and a list of guests in DM2831/18 (George Hutton Potts Collection, Special Collections, University of Bristol Library). See Sw-s02, Sw-s03, Sw-s04 and Sw-s05.
Location
Media
Black and white photograph
Repository
John Swire & Sons Ltd.