Up from Kuyuan. Camel trains leaving San Ying.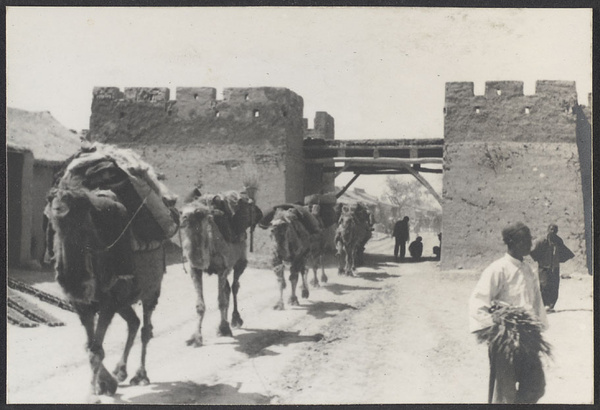 Collection
Copyright
© President and Fellows of Harvard College
Notes
Historical Photographs of China album reference: Hv46. Rev. Claude L. Pickens, Jr.'s trip to northwest China, part 1. General note: Excerpt from unpublished photo essay, plate 31: "The Mohammedan camel train leaves San Ying, North of Kuyuan, about noon. Carrying salt to the south, they return to Ningsia with grain. This and other villages saw serious fighting with the Communists in the summer of 1936." Access to original photographs and albums in the Rev. Claude L. Pickens, Jr. Collection is restricted. Photographs and images from the collection may be reproduced only with written permission. Contact the Harvard-Yenching Library for permissions and fees.
Location
Photographer
Media
Black and white photograph
Repository
Harvard-Yenching Library, USA